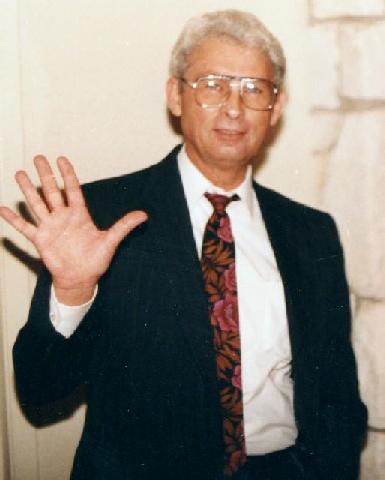 Tom Skelton
San Antonio Express-News - April 27, 2001

CMSGT Thomas W. Skelton, USAF (Ret) age 63, of San Antonio died Thursday, April 26, 2001. He was a member of Pearsall Road Baptist Church. Thomas retired from the U. S. Air Force. He served in several overseas locations, in the former Security Service, and the Air Intelligence Agency. He was a member of the Society of the Old Backenders and the Air Force Sergeant's Association.

He was preceded in death by his father, Howard Skelton. Survivors: wife, Juanita Skelton; son, Kerry Skelton and wife Kristen, Santa Rosa, CA; daughter, Janna Skelton, Indianapolis, IN; step-daughters, Danyel Piott and husband Thomas, San Antonio, TX., Diana Schertz, Pallyup, WA; mother, Lois Skelton, Boonville, IN; 6 grandchildren including, Caitlin Murphy; brother, Charles Skelton, Blytheville, AR; sisters, Nancy Lumbley, Bloomington, IN, and Carole Kroeger, Boonville, IN.

The family will receive friends on Saturday evening from 5 o'clock to 9 o'clock at Porter Loring.

SERVICE MONDAY - 1:30 P.M. PORTER LORING CHAPEL The Rev. Statt Riddlebarger officiating. Pallbearers: Kerry Skelton, Bill Lumbley, Tom Piott, Gary Belcher, Bud Skelton, Ernest Kroeger, John Verrill and Joe Waters.

In lieu of flowers, memorial gifts may be made to the Cancer Therapy and Research Center. Interment with full military honors in Fort Sam Houston National Cemetery. Arrangements with Porter Loring Mortuary.


---

BACK TALK: NCO led in secret world of signals intelligence By Robert F. Dorr

Special to the Air Force Times

You want to know the truth? Tom Skelton and I didn't hit it off.

I wasn't good at preparing a footlocker for inspection. Like many in the citizen Air Force of the 1950s, I had to struggle to maintain a military appearance or to whip off a snappy salute.

Skelton made it look easy. He was such a sharp troop. He could not understand why others had to struggle to find the knack.

Tom's brogans were always spit-shined. Even his fatigues were creased. He also was damned good at what he did for a living.

When Chief Master Sgt. Thomas W. Skelton, 63, of Boonville, Ind., died in San Antonio on April 25 after a brief bout with cancer, the Air Force lost one of its heroes.

For 30 years in uniform and a dozen more as an Air Force civilian, Skelton gave us leadership in a world where airmen monitor foreign languages, fly reconnaissance and gather intelligence. Until the recent surveillance plane incident in China, few knew that world existed.

For 19 months in 1957 and 1958, Skelton and I sat in a classroom in Monterey, Calif., students in the longest Korean-language class the Air Force ever held.

The average American could not have known why we were studying Korean.

We did not know ourselves.

Not until arrival in South Korea in January 1959 did we learn of a program called Blue Sky, which sent C-47 reconnaissance planes aloft to fly slow, lazy circles off the coast of North Korea. Not until then did we learn about signals intelligence — the business of surreptitiously tapping into an adversary's communications.

A sign at Osan Air Base, South Korea, in the 1950s told newly arriving airmen we were at Freedom's Frontier. We believed it.

Retired Maj. Douglas Fish, a one-time Korean linguist who followed a few years later, remembered that Skelton was a mentor and role model for those who wanted to be good at their jobs. Few of us ever measured up to Tom's level of excellence.

Skelton left South Korea in 1960, the last time I saw him, and went to Russian-language training. Unlike many who switched careers, he stayed in the aerial eavesdropping business.

Retired Chief Master Sgt. Tom Tennant remembers that, in 1967, we moved to Okinawa to start up RC-135 reconnaissance operations against North Vietnam in a program named Combat Apple. Skelton flew RC-135 missions near Hanoi while his brother, now-retired Maj. Charles Skelton, an electronic warfare officer, flew B-52 bombing missions nearby.

To Tennant, Skelton was a bright, able and conscientious man who handled staff management jobs excellently.

In 1971, Skelton volunteered for duty at Nakhon Phanom, Thailand, a remote outpost of the Vietnam War. Though Skelton was awarded a Bronze Star for valor, neither family nor friends recall details. He never mentioned it.

According to another colleague, Skelton's best-liked assignment — and one in which he made a real contribution as a leader — was at an intercept site in Greece in 1973 and 1974.

Soon after that, Skelton was tapped for the Air Force's highest enlisted rank — reaching the coveted level of chief in the shortest period possible.

Skelton's 1961 marriage to Bonnie Kramer, which produced son Kerry and daughter Janna, ended in an amicable divorce in 1975.

He was single for two decades before his second marriage to Air Force Reserve Tech. Sgt. Juanita Britt in 1995. His widow said she held Skelton "on a pedestal." A lot of us did.

Another colleague, Denny Alvey, remembered that Skelton transferred to Electronic Security Command at Kelly Air Force Base, Texas, and worked as the consolidated cryptologic program resource manager.

After retirement from the military in 1987, he came back to work doing the same thing as a civilian until he retired again in 1999. Always, it was the stuff of languages, reconnaissance and intelligence — and always behind closed doors.

One friend remembers him relentlessly polishing his car "because he thought that if it looked right, it would be right." That was the quintessential Skelton who showed the way for younger airmen — the sharp troop.

When the EP-3E went down in China, I wrote that its crew stood on "the shoulders of thousands who came before them" ["Accidental collision need not lead to crisis," April 16].

One of the thousands was Skelton. I always figured one day we'd get together, lift a glass and remember old times, any minor frictions rubbed away by the years.

Instead, I'll raise a toast here to Tom Skelton, one of the Air Force's leaders — now and forever, part of our legend.