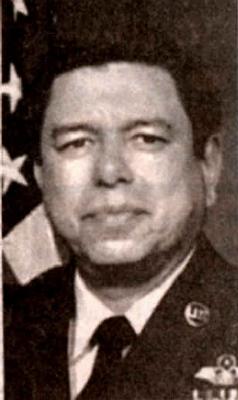 MSgt. Ronald M. Arevalos, USAF (Retired), passed away on May 3, 2000.

The son of Gilbert and Eleanor Arevalos, Ron served in the Air Force for 25 years in Okinawa, Vietnam, Korea, and Greece, and at HQ ESC Kelly AFB.

He was awarded two Distinguished Flying Crosses and 19 Air Medals.

Ron earned a Master of Arts Degree from Webster University and served as a Kraft Foods Human Resources Manager.

Ron is survived by his wife, Sung Cha; and two stepdaughters, Tina and Nina; and grandchildren, Jonathan and April. He is also survived by his brother, Donald, and sisters, JoAn and Sandra.

Visitations will be 2:00-5:00 P.M., Sunday May 7, 2000 and 11:00 A.M. to 1:00 P.M. Monday, May 8, 2000 at Sunset Northwest Funeral Home.

Funeral service will be held at Sunset Northwest at 1:00 P.M. Monday, and internment will be at Ft. Sam Houston National Cemetery. Donations may be made to the charity of choice.