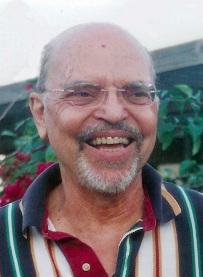 ROBERT GERARD BRODEUR
November 20, 1937-February 29, 2008
Oh! I have slipped the surly bonds of Earth
And danced the skies on laughter on laughter-silvered wings;
And, while with silent, lifting mind I've trod
The high untrespassed sanctity of space,
Put out my hand, and touched the face of God.

-John Gillespie Magee, Jr.

---

Robert G. "Bob" Brodeur was born to Joseph Brodeur and Rachel St. Germain Brodeur on November 20, 1937 in Woonsocket, Rhode Island. He was predeceased by his parents. On February 29, 2008 Bob went to be with his Lord and Savior and his family after a long and valiant battle with cancer.

As a career non-commissioned officer in the United States Air Force Security Service (USAFSS), Robert G. "Bob" Brodeur served his country and his fellow man with dignity and grace. He was a Russian and Vietnamese linguist with USAFSS and served in Berlin, Germany during the Cold War, and flew numerous combat support missions in Southeast Asia during the Vietnam War. He received many decorations and commendations including the Meritorious Service Medal, fourteen Air Medals, and two Air Force Commendation Medals. He retired from the Air Force in 1976.

Posted on his home computer, where he took care of business and kept in touch with his wide circle of friends, Bob had the following statement: "The thoughts I think and the words I speak help create my world and my experience." This statement exemplifies the manner in which he lived his life.

Bob was always the gentleman. Most of his Air Force associates were junior in rank and age. He utilized neither of these advantages in his dealings with subordinates. Instead, he led by example. Always do your best, and then reach down and do a little better. Quality and accuracy. Honesty and reliability. Those were his trademarks. He did not compromise his values or the trust placed in him. He served around the globe, and he understood that the most important and valuable asset available to him were the men entrusted to him to shape, mold, and train. He invested heavily of himself in this most precious asset. Other than his family, it was the best investment of his life.

Those who served in the communications intelligence field were known as the "Silent Warriors." They went about their business quietly, faithfully, and diligently. Bob has joined another elite fraternity. Godspeed good and faithful servant.

Bob attended Our Lady of the Lake University and graduated with a BA in Business Administration in 1978. He was a member of Kappa Pi Sigma and Who's Who Among Students in American Colleges and Universities in recognition of outstanding merit and accomplishment. As a model of humanitarian service, Bob's philanthropic work for the St. Vincent DePaul Society included meal service at the SAMM Shelter as well as Engage Encounter coordinator in partnership with his wife, Barbara, for the Southern Region of Texas.

During his time in San Antonio, Bob spent thirty years as the Director of Administration and Budget at the Institute of Texas Cultures, University of Texas. The annual Folk Life Festival proved a joyous event under Bob's tutelage. He retired from the institute in January 2007. Most recently, Bob served as treasurer of the Republican Club of Comal County, and was an active member in the Friends of Bulverde Library.

Robert Gerard Brodeur is survived by Barbara Linda Brodeur, nee Pisik, of Bulverde, his loving wife of forty-seven years, son U.S. Army Colonel Jeffrey Michael Brodeur and his wife Ilsa, nee Waterman, and their two children Shea Elizabeth and Jason Waterman, currently stationed at Scofield Barracks, Hawaii, daughter Elizabeth Rachel and her husband, Michael Scott Caruso, and son Jordan Scott of Papillion, Nebraska, daughter Kinikia Renee of Dallas, Texas, and son Christopher David and wife Linda and two daughters Kamryn and Kaylin of Bulverde, Texas.

In lieu of flowers you are invited to donate to VITAS charitable fund (a hospice program), 5430 Frederickburg Road, Suite 200, San Antonio, Texas 78229, tel: 210-348-4300, or Bulverde Spring Branch Library, 20475 State Hwy 46W, Bulverde, Texas 78070, tel: 830-438-4864.