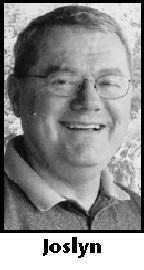 CAPTAIN RICHARD LINDEN JOSLYN, 54, died Monday, May 30, 2005, at Emerald-Hodgson Hospital, Sewanee, Tenn.

Born in LaPorte, Ind., he retired in 1992 as a Captain in the U.S. Air Force with 22 years of service.

He was currently employed with Northrop Grumman as a project manager.

He was a graduate of Westville High School, in 1969, Westville. He received his Bachelors at the University of Maryland, in 1980 and Masters at Indiana Weslyn, in 2003.

He was a member of Church of Christ.

Survivors include his wife, Sandra Jane Joslyn of Fort Wayne; daughters, Monica Jane (Andrew) Dolan of Potomac Falls, Va. and Melinda Joy Levine of Fort Wayne; four grandchildren, Justin, Eryn, Richard and Aidan; mother, Emma Thomas of Lynchburg, Tenn.; brother, Allen B. Joslyn of Murfreesboro, Tenn.; one niece; and eight nephews.

He was preceded in death by his father, Allen Bruce Joslyn Sr.; and a sister, Emily B. Straub.

Service is 3 p.m. Friday at D.O. McComb & Sons Pine Valley Park Funeral Home, 1320 E. Dupont Road. Calling is from 3 to 5 and 7 to 9 p.m. today at the funeral home, with Military Honors. Burial in Marion National Cemetery, Marion. Memorials to American Heart Association or Church of Christ.

Published in the Fort Wayne Newspapers on 6/2/2005.

---

Added comment by Axel Anaruk, a former Chinese linguist who flew reconnaissance missions aboard C-130Bs from Yokota during the 1970s.

One of the folks I'd been trying to get in contact with since I returned from my hospital sojourn was Dick Joslyn. A fellow mustang and former linguist. He was a friend, former neighbor and brother in Christ. Dick flew RJ in the Med (I believe) as a "special arabic" or arabic linguist and in the far east (as I recall) as a zip (not certain about that.)

RIP, Dick and God Bless Sandi (wife), Monica and Mindy (daughters).