"PAPPY JACK" MARTIN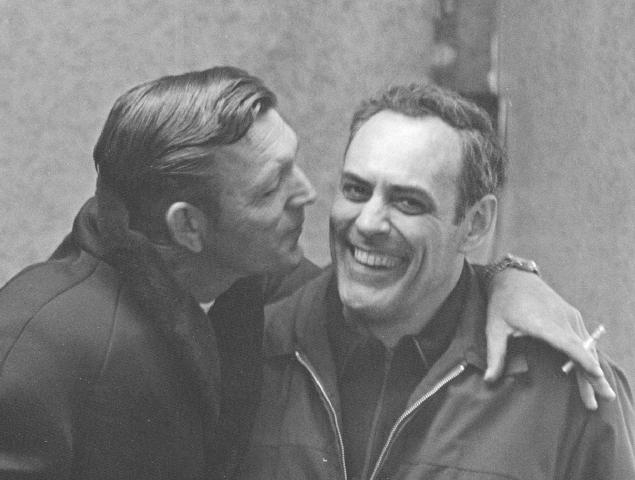 Jake Hargove whispering something in Jack Martin's ear. Photo taken in the early 70's
SMSgt John R. "Jack" Martin. USAF Retired, age 72, died Thursday, December 9, 1999. He retired after 27 years in the United States Air Force and Security Service and had accumulated over 15,000 hours of flying time. Jack was a 32nd Degree Mason and a Past Master of the US Hessen Lodge # 844 located at Darmstadt, Germany. He was also a life member of Mosiah Temple, the American Legion, Bennington, Vermont Chapter, the Veterans of Foreign Wars and the Disabled American Veterans.

Jack was a volunteer firefighter for 23 years.

He was a wirebender - Larry Tart flew with him at Rhein Main in the late 60s.

He was also at Rhein Main in the late 50s and Yokota. He lived at Boerne and kinda dropped out of the gang after retirement.

//Larry Tart//

I first saw Jack while attending ECM Maintenance Technician school at Keesler AFB in 1958-1959. We never met at this time as we only passed each other while marching to and from class. I became acquainted with him upon my arrival from Yokota at the 6949th in late August 1966. He was a little hard to know and understand at first but I soon learned he thrived on praise and recognition. He was a well qualified and innovative techician who enjoyed a challenge.

There once was a requirement to install some special equipment in an aircraft for a unique mission. I explained the job to Jack and said there was no other tecnician available more qualified than he to do it. After careful study of the plans and procurring the necessary hardware and equipment, he spent 16 continuous hours completing the installation. I called upon him many times over the next five years we were together at Offutt and Rhein Main for special tasks and projects. RIP Jack.


The information for this obituary was compiled and written by John S. (Big John) Deaver.