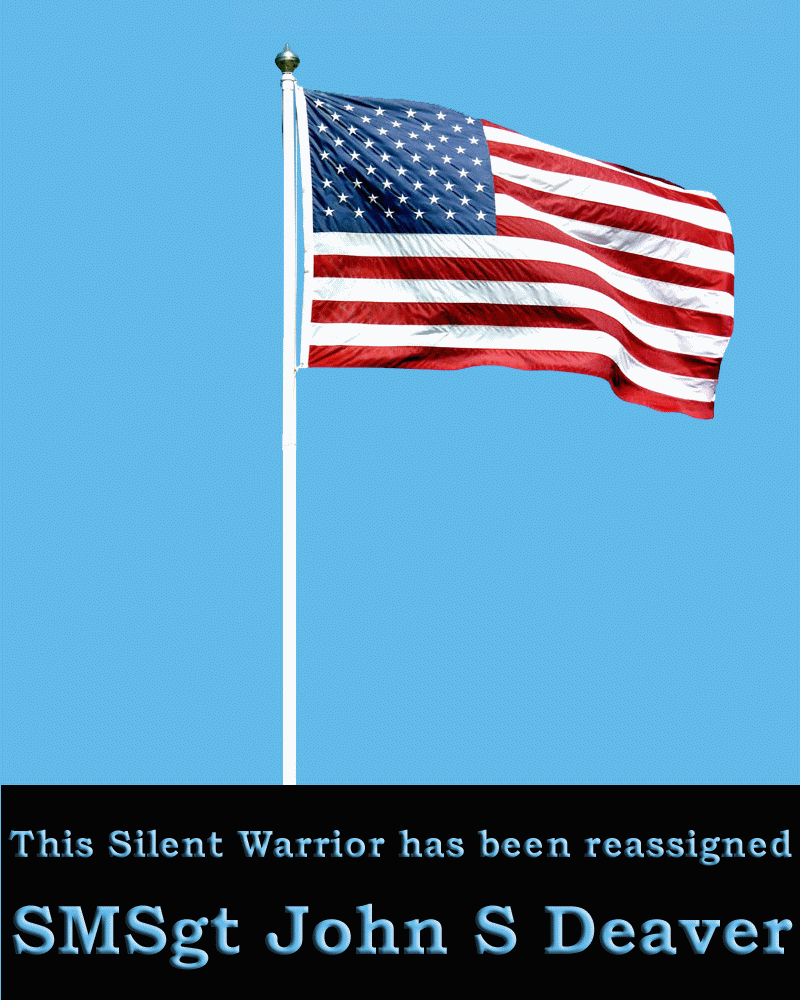 DEAVER, JOHN S., SMSgt, United States Air Force Retired, just 26 days short of his 80th birthday, having been FIGMO for the past few years, finally received his port call on March 6, 2006 due to a bout with cancer.

He has been transferred to that vast Celestial Headquarters, there to advise the Supreme Commander of the Universe on matters of morale and welfare of the troops. Do not mourn his departure but rejoice in knowing that soon all of you will join him in that greatest of all reunions that will never end. Many SOBs (Society of Backenders) like Tony Daluz, Wimpy Belmont, Conrad Schott, The Blazer, Pappy Jack Martin, and Ron McCann, to name only a few, have already signed in and are anxiously awaiting his arrival to begin the celebration.

Big John, as he was known to the Brethern, began his military career with the US Navy on Aug 10, 1944. On Aug 6, 1945, he was aboard ship steaming for Okinawa when the first A-Bomb was dropped on Hiroshima. He credits this with saving his life as he was one of tens of thousands marshalling at Okinawa for the Invasion of Japan. After WWII, bored and fed up with chicken-shit regulations and too damn much solo sack time, he left the Navy on Jun 26, 1951. Having no marketable skills, he enlisted in the US Air Force on July 6, 1951, and returned to Okinawa in Oct 1951 'til Nov 1953 in support of the Korean War. He spent the next 4 1/2 years at an advanced jet transition training base at Craig AFB, AL, where he served as NCOIC of the Base Electrical Facilities Maintenance Shop and as Squadron First Sgt. Unable to progress beyond T/Sgt in these career fields, he volunteered for ECM (Electronic Countermeasures) maintenance school at Keesler AFB, Miss in Sept 1958. Graduating in June 1959, he was assigned to Patrick AFB, Fl, where he spent 2 1/2 exciting years on the Atlantic Missile Range.

At this point his luck ran out and he was assigned to a United States Air Force Security Service ground site at Trabzon, Turkey. Here he learned where the hose would be inserted if the world needed an enema. But he was rewarded for this brief exposure to the raghead world by promotion to SMSgt and a COT (Consecutive Overseas Tour) to the 6988 SS at Yokota where he met and became involved with the greatest bunch of guys that ever lived.

For the next 12 years, he had the distinct honor and great pleasure of serving as Avionics Maintenance Superintendent at Yokota AFB, Japan , Offutt AFB, Nebraska, Rhein Main AFB, Germany, Athens, Greece and finally back to Offutt where he retired on Sept 1, 1975. Actually, he didn't retire - he was pushed kicking and screaming out the gate just because he had 31yrs 12days service. During this period he earned and was awarded 8 Air Medals, 2 Meritorious Service Medals, the Air Force Commendation Medal and 12 Good Conduct Medals for which he was most proud.

Having earned the right to a formal education under the GI Bill in three wars, his proudest accomplishment since retirement was earning a BS in Business Administration from the University of Tennessee. It took seven years of attending night school while working a full time job but he finally graduated in December 1983 with honors and a 3.21 gpa. Trouble was, nobody but him gave a damn as the employment lines were filled with 22 year old kids with BS degrees looking for jobs.

Big John once boasted that the only thing he ever did that he never once regretted was to seek out and petition a lodge of Freemasons for membership. He was accepted and raised to the sublime degree of Master Mason on February 28, 1948 and received his 50 year pin in 1998.

In parting, he leaves this message for the Brethern and 2 Sistern: "When you reach the Pearly Gates, no need to ask St. Peter for directions - just follow the noise to the backside of heaven and there you will find me and the dozens of SOBs who have gone on before holding beer call. If you get lost along the way, I may present you with a TI (Turdus Ignorimus)Award for not following directions. In the past we never said goodbye because we were sure to meet somewhere down the road. So in keeping with that hallowed tradition, I say so long for now."

Big John leaves behind a beautiful family that he asks the Brethern to watch over and remember in their prayers. His wife of 42 years, Mary, went to her great reward on May 9, 1990. Together she and BJ adopted and raised six children that she patiently and diligently stayed home and loved and nurtured while he was off galavanting in exotic places around the globe. Namely, they are Kathleen, Curtis, John, Lisa, Norman and Robert. All are grown and gone and doing well except Robert who is 28 (now) and was brain-damaged at birth. He will always need tender and loving care.

BJ's second wife, Deborah, took excellent care of him and Robert. Bj adds: "Being a 'redneck' from Georgia, she has never had any contact with military people and finds it hard to believe that people like us, the PWG, really exist. Be gentle with her."

"God bless and keep all of you til we meet again."
---
Obituary from the Knoxville News Sentinel newspaper:
John Samuel "Big John" Deaver DEAVER, JOHN "BIG JOHN" SAMUEL, SMSGT AIR FORCE, RET. - age 79, passed away at Methodist Medical Center of Oak Ridge after a short illness on March 5, 2006.

He was born in Postel, TN and had lived in Knoxville, TN since September of 1975.

He had been a veteran of three wars, and was in the military, both Navy and Air Force for a total of 31 years and 12 days; retiring in September of 1975. During the time he was awarded 8 Air Medals, 2 Meritorious Service Medals, the Air Force Commendation Medal and 12 Good Conduct medals.

He worked full time after retirement from the Air Force, and went to the University of Tennessee at night for seven years to graduate with Honors in December of 1983 with a BS in Business Administration maintaining a GPA of 3.21.

He adored his children and the bonding relationships he made through the many tours he did while in the Air Force, and most enjoyed the reunions they held many of the years after his retirement. He was inducted into their Hall of Honor in 1999 of which he was extremely proud.

He also had the privilege of becoming a Freemason on February 28, 1948, and received his 50-year pin in 1998.

His first wife, Mary Jean Oyler Deaver with whom he spent 42 years of his life, preceded him in death. His parents, seven sisters and a brother also precede him.

His wife, Deborah A. Deaver, his six grown children, Kathy, Curtis, Lisa, John, Norman and Robert survive him in death. In addition, he had eight grandchildren, Jim, Nicole, Matt, Andrew and Spencer, a step granddaughter Stephanie, and a great grandchild Kayden, all of Knoxville or Oak Ridge, and grandchildren Tara and Tyler of Elizabethtown, Pennsylvania.

Donations in lieu of flowers may be sent to the PWGBF, 8037 Cavendish Rd, Neenah, WI 54953.

The funeral service is to be held at Weatherford Mortuary, 158 S. Jefferson Circle of Oak Ridge, TN on Thursday, March 9, 2006 at 7:30 p.m. Visitation of friends and family will be held from 6 p.m.-7:30 p.m. with a Masonic funeral following.

Burial will be on March 10, 2006 at the Oak Ridge Memorial Park at 1 p.m. with Military Honors. He was a most beloved husband, father, grandfather, great-grandfather and friend to all who knew him.

An online memorial guest book may be signed at: www.weatherfordmortuary.com.
---
Comments from Friends and Brothers:
Big John has earned a new set of wings and has been called up to a much bigger Air Force.

John "Bubba" Armintrout

---

Had the privilege of flying with Big John at Yokota...mid 60's. The 88th was my first flying assignment. The first time I set foot on Strawbridge, 91-537, Big John and Jake Hargrove were in the maintenance compartment. I was in my first term of enlistment and not very sure of what I volunteered for. Big John was one of several outstanding NCOs who recognized that "masked fear" most of us jeeps tried miserably to hide. Thank goodness NCOs like Big John were everywhere in Security Service's airborne program. Serving with the likes of Big John Deaver was an honor. Thanks BJ, for your leadership, guidance, and most of all your friendship. You will be sorely missed...rest in peace, sir!

Darr.

---