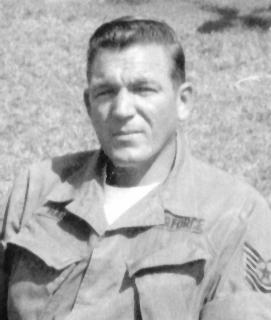 Published Saturday, March 20, 2004 in the Lakeland, Florida newspaper, The Ledger.

ASIER HARGROVE, 68

Electronics Technician



LAKELAND -- Mr. Asier Jacob "Jake" Hargrove of Lakeland died of a heart attack Thursday (March 18, 2004) in Lakeland. He was 68.

Born in Braggadocio, Mo., on July 28, 1935, he came to Lakeland from Rogers, Ark., eight years ago. He was an electronics technician for a security and surveillance company. He was a retired master sergeant in the Air Force.

Mr. Hargrove is survived by his wife, Judy Hargrove; sons, Robert Hargrove, Mesquite, Texas, William Hargrove, Detroit; daughter, Bonnie Cochran, Mesquite; sister, Sally Marchbanks, Gideon, Mo.; brothers, William Hargrove, Troy, Mo., Jerry Hargrove, Mountain Home, Ark.; seven grandchildren; two great-grandchildren.

Countryside Funeral Chapel, Lakeland.

The following comments were added by Darr King:

I remember Jake in the mid '60s while serving at Yokota and a gazillion trips to Southeast Asia. He was an outstanding NCO who genuinely cared for the junior enlisted flyboys new to the ACRP. Jake spent countless hours on countless missions ensuring us "jeeps" understood the operator/maintenance relationship. He treated us with respect, was very patient with our endless questions and mistakes.

Thanks Jake, and Rest in Peace! Heaven's softball team now has an ACE on the mound!