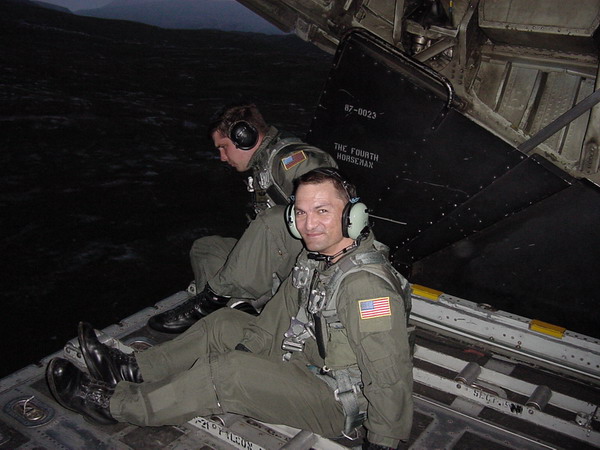 Tragedy reminds us of our own mortality. Loss … makes us call to mind those we wish we had more time to get to know, but somehow there was always something more important to do. Death … reminds us that you only get one chance at life, so be sure that each day has purpose and you are at peace with each other and your spiritual strength.

If we are not risking, we are not living. So we have lived and continue to grow by challenging ourselves to be something beyond our limits, for something bigger than ourselves. Because they lived, because they didn't take for granted the mission they were called to do, these nine men are bigger than they'd ever dreamed they could be.

Our hearts pour out to the families who lost fathers, husbands, sons and brothers. It is our FAMILIES who make the truly gallant sacrifice through unconditional support of us to pursue our calling to service. It is YOUR courage as parents, husbands, wives and children, which make us brilliant and strong, independent and brave. Let me offer our humble gratitude for your tremendous love and sacrifice, which gives us purpose.

It's difficult, but not impossible, to find peace during this time. A father of one of our unit members was compelled to share with us a scripture passage to give us hope in our time of grief. I'd be honored to share with you his offering:

1 Thessalonians 4 13-18

But we do not want you to be uninformed, brothers and sisters, about those who have died, so that you may not grieve as others do who have no hope. For since we believe that Jesus died and rose again, even so, through Jesus, God will bring with him those who have died. For this we declare to you by the word of the Lord, that we who are alive, who are left until the coming of the Lord, will by no means precede those who have died. For the Lord himself, with a cry of command, with the archangel's call and with the sound of God's trumpet, will descend from heaven, and the dead in Christ will rise first. Then we who are alive, who are left, will be caught up in the clouds together with them to meet the Lord in the air; and so we will be with the Lord forever. Therefore encourage one another with these words.

We are privileged to have served with these men, and our sense of loss and pride burns deep into the abyss of our souls. To close, I want to read a poem that was written for TSgt Glenn Lastes, or Roco, as we knew him. It is called "A Life Shuttered Down", composed by Master Sergeant Mark Adams, and we feel it may apply to all who lost their lives in this tragedy.

A life shuttered down,
Like a secret untold,
Like sunlight not beaming,
Like breezes not blown,
Stopped in its stride,
The last moment stands still,
We float off in its wake,

Only the daring,
And those with truly brave souls,
Submit themselves to the thunder,
That infrequently rolls,

When it does visit,
Bringing its terrible might,
It dashes the gallant,
And stains us all with its blight,

Peace now brother,
Carry the end of turbulence nigh,
We see you perfectly laughing,
In our teary mind's eye,

We will never forget,
For you are never too far,
We see you like a light in the dark sky,
You are God's shooting star.
Fly safe now.

-----------------------------Copied from the CNN News web site:-------------------------------

Bodies found after C-130 crash

Friday, April 1, 2005 Posted: 9:01 AM EST (1401 GMT)

TIRANA, Albania (AP) -- Search teams recovered all nine bodies Friday from the wreckage of a U.S. military aircraft that crashed in mountainous southern Albania during a joint exercise, authorities said.

The U.S. military C-130 airplane crashed in bad weather late Thursday near the remote village of Rovie, in the Drizez Mountains, about 100 kilometers (60 miles) southeast of the capital, Tirana, officials said. The exact cause was unclear.

The nine were Americans taking part in a joint exercise with Albanian forces, Albanian army Chief of Staff Lt. Gen. Pellumb Qazimi said Friday.

Four bodies were found earlier Friday, and five more were found inside the plane, Albanian officials said.

The military transport was assigned to the 352nd Special Operations Group based in Mildenhall in England.

U.S. military officials in Stuttgart, Germany, said the cause of the crash was being investigated but refused to comment on the fate of the crew, saying in a statement that the "status of the individuals on board is yet to be determined."

"I have no confirmation from any of my official channels," said Maj. Holly Silkman in Stuttgart, adding that U.S. and Albanian search-and-rescue teams were still at the site and that "Albanians have been extremely helpful."

Albania, which is seeking eventual membership in NATO, has close ties to the U.S. military. It has backed the U.S.-led campaign in Iraq with a unit of 71 troops and has peacekeeping contingents in Afghanistan and nearby Bosnia.

The U.S. ambassador to Albania, Marcie B. Ries, thanked Qazimi for the search effort.

"This is an example of the excellent cooperation existing between the United States and Albania," Ries said. "We are very grateful for the tremendous support from the Albanian military."