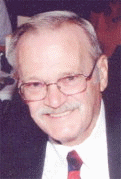 MATEJOWSKY, Glen Dale

Born, Aug. 8, 1938 in Abernathy, TX, passed away on Dec. 17, 2005 at the age of 67 in Roseville, CA following a courageous battle with cancer.

He was a very loving husband, father, and grandfather, and was loved by all.

Serving 20 yrs. in the Air Force as a linguist, he enjoyed his travels overseas and still loved staying in touch with his former Air Force buddies.

He later retired from SMUD at Rancho Seco.

Dale lead a very active life being involved in many groups and activities such as golf, square dancing, bridge, pinochle, SIR's, and traveling.

Dale will be greatly missed and is survived by his wife, Ora (McGinniss); his children, Jennifer & Tom Pfeiler, Robert, Linda & Larry Viglione, and Clint Roullett; grandchildren, Paige, Adam, Ryan, Wade, Bailey, Shelby, Amber, Nicole, Eric, Jaclynn, Clint, Cole; and great-granddaughter, Rosemary.

The family invites friends for funeral services on Thursday Dec. 22, 2005 at the Mariposa Church of Christ, 7111 Mariposa Ave. in Citrus Heights, CA 95610 at 11:00 A.M.

In lieu of flowers, please send donations to Sutter Medical Center Foundation/Cancer, 2800 "L" St., Sacramento, CA 95816>BR>
Published in the Sacramento Bee on 12/20/2005.



---


Here is the tribute done by Bill Mahan, former United States Air Force Russian Linguist who flew C-130 missions from Rhein-Main, Germany from 1966-69.


Good people are hard to find.

Forty years ago in the Air Force, I met Dale Matejowsky. We were stationed together at Rhein-Main in Germany, flying in the back ends of C-130 aircraft. This was the Cold War when both sides went to the edge of open hostilities. The missions were important. The missions were secret. As one of very few Hungarian linguists in the Air Force, Dale did it all. He gathered intelligence. He processed it. He analyzed it. He reported it. Later, he became a Serbo-Croatian linguist, too, and he did that job equally well. The Air Force knew very well that good people are hard to find.

Dale Matejowsky was good people.

Dale was that rare military man, one who could do his job very professionally, fit in with all the guys and still always be the nice person that we would all like to be. He was tough. He was a survivor. He survived language school twice, learning languages that most people would consider too difficult to study. He survived Air Force survival school, surviving the box lunches the mess hall sent on our missions. Whatever needed to be done, Dale was up to the task. He was one of those people for whom life was hard work and easy choices. Good people like that are hard to find.

Dale Matejowsky was good people.

I lost track of Dale when I left the Air Force, and found him again among other flyers in a group called the Prop Wash Gang. There we all renewed old memories, and talked about new things. It was wives and children and grandkids, work and retirement, the world as we knew it a long time ago and the world we lived in now. Life was different: different location, different families, different commitments, different things to occupy our time. Different world, but same old Dale. Finding him was a true treasure for all of us. Good people are always hard to find.

Dale Matejowsky was good people.

There are those whose lives with Dale were longer, closer, more involved with his than was mine. And there are those who knew him much better than I. They were indeed fortunate. Dale made you feel good just by being around him. His was a life that made the lives of those he touched more enjoyable. And all of us in the Prop Wash Gang know very well that good people are hard to find.

Dale Matejowsky was good people.

We flew important missions with him. We entrusted our lives to his judgment, and he trusted his to ours. Others flew the same or similar missions and understood well what Dale did for his country. Military people understand that sort of thing. Military service is about commitment to country and to one's fellow servicemen. It is mostly unspoken, and it is rarely defined outside of books and movies, but Dale made you realize that such is how he and many, many others conducted themselves. It is that natural commitment to others that makes for truly good people, and those good people have always been hard to find.

Dale Matejowsky was good people.

We all tend to think of some people as special. They may have talents we envy, skills we know that will never be ours, or lives that go beyond where our own are capable of going. They seem to be stars, radiating a prepackaged glow that society says is the life to which we should all aspire. Dale was never one of those, and much more importantly, he never accepted that. Character, he knew, was what distinguished one person from another and provided true guidance through life. He was the man you wanted your wife or children or grandchildren to think you were. Goodness is not something about which we men often talk. Neither is kindness or gentleness. But they are things we do admire, and they are the things that made Dale who Dale was. Good people like that are hard to find.

Dale Matejowsky was good people.

Look around. We are here because Dale was a good person, a good husband, a good father, a good grandfather, a good friend, a good airman, and a good American. We are here to acknowledge that, to thank him belatedly for being just who he was, and to comfort each other in the loss of someone who was important in our own lives. We are here to offer his wife, Ora, and the family, our condolences and support, but it is also important that they know about the Dale Matejowsky that we knew, the one whose Air Force service may still be classified, but it should not remain a secret.

Yes, Dale Matejowsky was good people. And knowing him as we did made us all better for it.

May you Rest in Peace, Brother.
The Prop Wash Gang