Larry Eshleman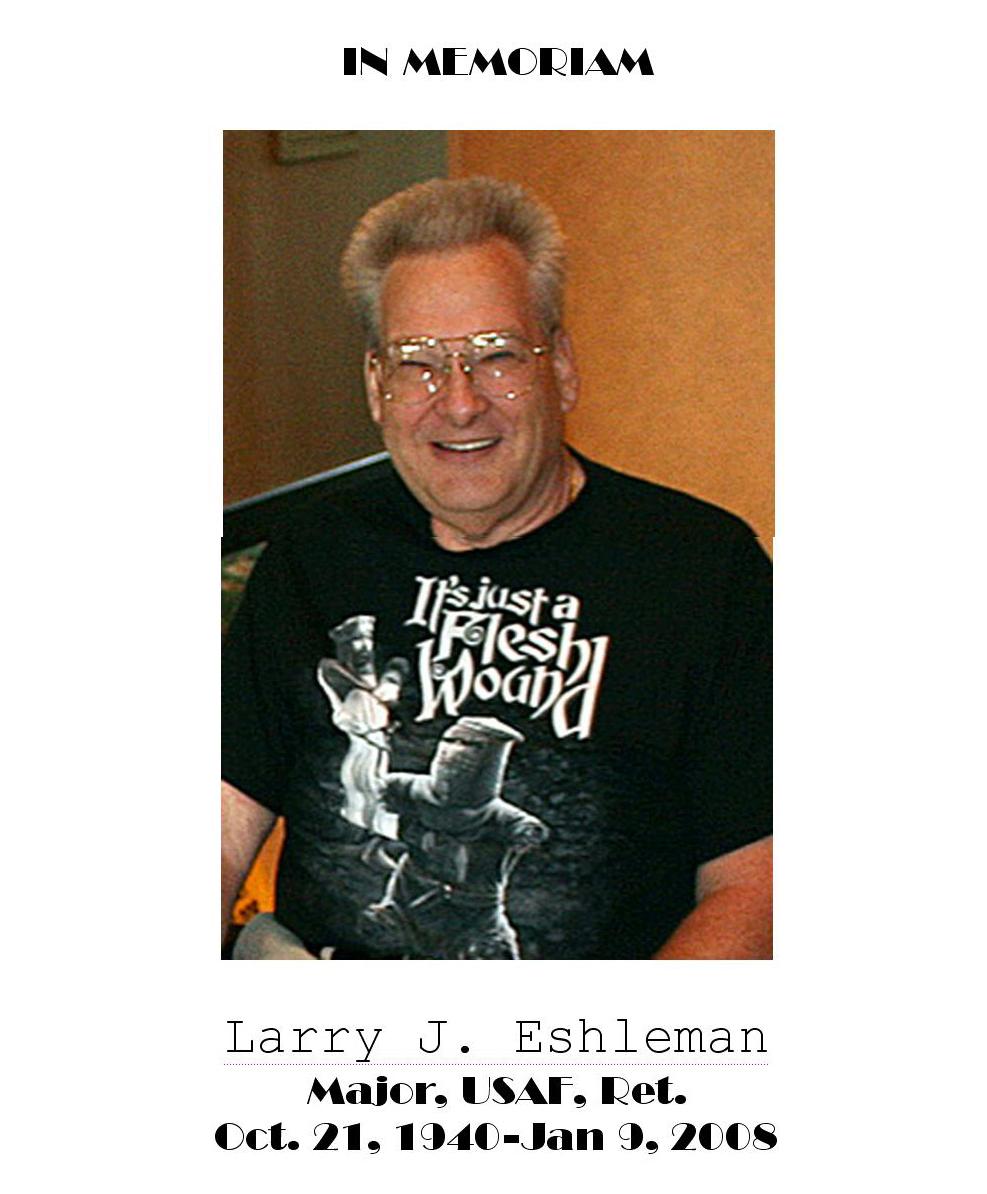 Larry was born in Lancaster, PA., in 1940 and graduated from high school in Oak Ridge, TN., in 1958. Shortly after graduating, he joined the U.S. Air Force.

In August of 1958 he was assigned to the 3706th Basic Military Training Squadron on Lackland Air Force Base, Texas. During Basic Training, Larry went through intensive screening for training as a linguist. He was ultimately assigned, along with a small group of Airmen, to Yale University's Institute of Far Eastern Languages to study the Chinese language.

After graduating from Basic Training in October 1958, he was held at Lackland AFB for two months before being released for a short home leave before reporting to New Haven, CT., and Yale University as a member of Chinese Class 01-59.

Larry completed Chinese training at Yale in September 1959, attended Radiotelephone Intercept Operator Training at the National Security Agency, Fort George G. Meade, MD and was then assigned to the 6929th Radio Squadron Mobile, Osan Air Base, Republic of Korea.

He got his first introduction to the mission of the USAF Security Service with the 6929th in Osan. After a short period as a "Chairborne Intercept Operator," Larry was selected for the 'Blue Skies' program and served as an Airborne Intercept Operator. Subsequently, he flew with various USAFSS units throughout the Far East and Southeast Asia, serving in Korea, Japan, the Republic of South Viet Nam, Okinawa, and Thailand. Along the way, Larry also acquired fluency in the Vietnamese language and flew on a variety of USAFSS manned aircraft; namely the EC-47, the C-130BII and the "D" and "M" models of the RC-135.

Larry re-trained as a Vietnamese linguist in 1963 and was assigned to Detachment 2, 6922 RGM on Monkey Mountain in South Vietnam, performing both ground based and airborne duties while there. He was a member of USAFSS crews which participated in Project Sour Grapes/Blue Sky hearability missions in RVN. The project eventually became the Airborne Radio Direction Finding (ARDF) mission of the 6994 SS and its numerous detachments in Vietnam and Thailand. The venerable C-47 was the platform of choice for the ARDF program. The crewmen of the Sour Grapes effort were among the first USAFSS crewmembers to participate in flying combat missions in RVN. 1965 found Larry seconded to the C-130BII Silver Dawn reconnaissance program at Danang. Larry was subsequently transferred to the 6988 SS at Yokota AB, Japan, where he continued to dedicate his efforts to the Southeast Asia struggle. Home based at Yokota, Larry continued to fly aboard the C-130BII aircraft while deployed to Danang. The Silver Dawn program was renamed Commando Lance in 1966.

In late 1967, Larry was reassigned to Kadena Air Force Base, Okinawa when the 6990th SS was activated. Because of his linguistic skills and managerial ability, Larry was tasked with training the newly assigned Viet linguists. He developed a training course to familiarize the new personnel with procedures and terminology they would require. Larry's efforts were instrumental in the mission success of the 6990th. He also flew combat missions aboard Combat Apple RC-135M and D models from Kadena and C-130BIIs from Danang and Cam Ranh Bay, RVN. Larry was also a prominent contributor to the development of a Vietnamese military dictionary, providing much of the technical input and writing a major portion of the publication which came to be called "Rice Bowl." Rice Bowl was the invaluable reference publication for all-service Vietnamese-speaking operators and analysts in Southeast Asia.

Larry concluded his flying career with the 6990th. He had flown hundreds of combat sorties in EC-47, C-130BII and RC-135 aircraft. Larry was awarded an Air Medal with 9 Oak Leaf Clusters for his airborne service.

Concurrent with his SEA service, Larry pursued his goal of earning a commission in the USAF. He completed the Bootstrap program and was commissioned in 1971. Larry was assigned to the Air Force Intelligence Service in a variety of assignments, serving in Washington, D.C. and other locations around the world. At one point, he turned up in Nakhon Phanom, Thailand, as a PACAF representative/observer when the "TEA BALL" concept was initiated from an operations complex at the Task Force Alpha facility. While Larry was not directly involved in the initiation of the project, much of the groundwork could be traced back to concepts and procedures developed by him and the other linguists during earlier stages of the SEA conflict. One must assume that Larry provided sage comment about the TEA BALL operation to the Command Staff at PACAF.

While at PACAF, he was the Philippines expert. When the Marcos regime fell, he was involved with the movement of the Marcos contingent out of the Philippines and escorted one of the Filipino generals back to the Philippines. He also played in two of the Team Spirit exercises (focused on defense of Korea) as an intelligence analyst.

Larry served in the USAF for 28 years, 3 months and 20 days and held enlisted ranks from Airman Basic to Technical Sergeant and attained the commissioned rank of Major.

Some time near the end of his AF career, Larry met his wife, Ellen. They subsequently married and established a home in Winter Park, FL. They had been married 12 years when Larry died.

After retirement, Larry went on to a post-military career as a Dept. of the Army Civilian working for most of his 16 year tenure as an Intelligence Officer under the Assistant Chief of Staff for Intelligence (ACSI) and his final few years under the Assistant Chief of Staff for Operations (ACSO).

At USARPAC, he was a HUMINT collection manager. He moved HUMINT collection at USARPAC from a passive to active role. Although his initial focus was on the stability of the Government of the Philippines, it evolved into collection plans for other countries, e.g., Burma, Malaysia, etc. The focus of these collection plans was to provide data for Non-combatant Evacuation Operations and included looking at helicopter landing zones, evacuation routes, centralized gathering places, location of key American personnel and all of the data that would be required to plan for the successful extraction of U.S. personnel and personnel sympathetic to the U.S. government.

He was the key motivator of evolving the USARPAC Intelligence Exchange conferences into tactical level intelligence tactics and techniques at the unclassified level with other Pacific countries, e.g., Malaysia and Singapore. This was a low cost, high gain program both in terms of what we got from those countries and in establishing a rapport with junior officers in those countries who would become the future leaders.

Larry was ravaged by Agent Orange due to prolonged contact while in Vietnam and ultimately lost both his legs as a result. He also underwent two heart by-pass surgeries in the process and this all led to his retiring on full disability and relocating to Winter Park, Florida. Throughout all his medical battles, his beloved wife, Ellen, cared for him, loved him and provided the loving support that helped him deal with his disabilities. During his battles, he remained very active in civic affairs and with his friends and former military and civilian colleagues right up until his death. He developed a course in Asian Culture and was preparing lectures for a local university. He also established an investment plan which he shared with anyone who desired to use it.

Larry was blessed with great intelligence and a keen sense of humor. He was a bright light in the lives of all he knew, a true friend and tribute to the human race. He will be missed by many. The body of his work during his all too short assignment on this planet will live on in the annals of USAFSS and the Department of the Army Intelligence and Security Command. Larry will be sorely missed and very fondly remembered by the friends he made for himself and our country while serving overseas and working in close liaison with many of our allies in Asia.

May the LORD bless and Keep him.

---

Larry and his lovely wife, Ellen

---

This history and write-up was a joint effort by several of Larry's Air Force brothers and friends, an obviously notable and honorable tribute to a great Airman.