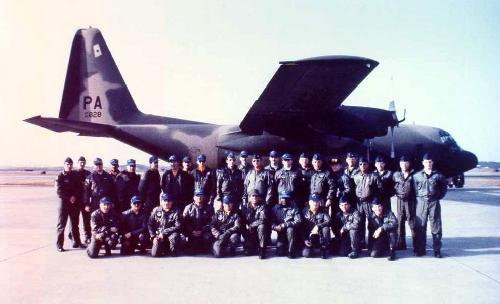 COMFY LEVI at TEAM SPIRIT, 1984.

Crew composed of 6994ESS (Back end) and 193SOG (Front end)

Front Row L-R: U/I, U/I, Lee Onart, U/I, SMSgt Art Gort, MSgt Jerry Horn, TSgt Roberto
Romero, U/I, Sluf, SrA Mark Carr.

Back Row L-R: SSgt Sam Morter, SSgt Fassler, U/I, U/I, U/I, SSgt Kevin Mulligan,
TSgt Ken Choat, TSgt John Braun, SSgt Lee Ervin, U/I, SSgt Drew Fienhauls, U/I,
SSgt James Nelson, U/I, SSgt Dave Lamb, U/I, U/I, Capt James Schulthies,
U/I, U/I, U/I, U/I.